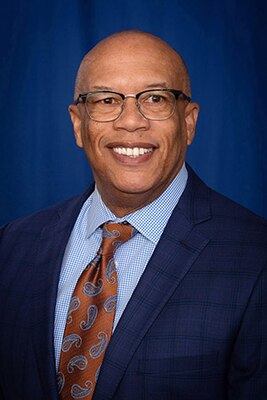 NEWPORT, R.I. —
Naval Undersea Warfare Center (NUWC) Division Newport engineers Jeffrey Feaster, David Rhodes, Matthew Colavita and Kendrick Spencer have been named winners in the Science, Technology, Engineering and Math (STEM) Achievement Awards program by Career Communication Group's U.S. Black Engineer and Information Technology magazine and the Council of Engineering Deans of the Historically Black Colleges and Universities. The Modern Day Technology Leader Award category winners, Feaster, Rhodes and Colavita, are being recognized for their outstanding performance in STEM. Spencer, a winner in the Science Spectrum Trailblazer category, is being lauded for actively creating new paths for others in science, research, technology, and development.
Feaster, of South Kingstown, Rhode Island, deputy department head, Sensors and Sonar Systems, for the past 10 years, has helped lead one of NUWC Newport's largest departments in delivering the best sensors and sonar systems technology solutions to the fleet. Throughout his 31-year career, Feaster has advocated for diversity with the goal of strengthening the Navy through a more diverse workforce. Through his efforts, over 160 new employees have been hired over the past three years.
Rhodes, of East Providence, Rhode Island, head, Surface and Aviation Systems Integration Branch from the Sensors and Sonar Systems Department, stands out for his many significant technical contributions throughout his 16-year career at NUWC Newport. As a software engineer, Rhodes and his branch focus on cybersecurity, architecture and integration, supporting multiple surface ship and submarine programs. Additionally, Rhodes is the department point of contact to NUWC Newport Corporate Operations regarding the Cybersecurity Workforce and is the lead branch head for the department website, currently enabling its transition to NUWC Newport's Advanced Interactive Management Technology Center. Throughout his career, Rhodes has led a large range of complex efforts, including those for the Acoustic Rapid Commercial-Off-the-Shelf Insertion (ARCI) Backfit program, while mentoring others and has established positive relationships with the fleet, customers and peers.
Colavita, of North Kingstown, Rhode Island, a mechanical engineer in the Platform and Payload Integration Department for the past five years, has distinguished himself for leading a novel experimental hydrodynamics research project investigating emerging body interactions. The goal of his research is to gather experimental data on hydrodynamics of three-dimensional geometries emerging from a body inclusive of forces, movements, vibrations and flow field measurements. This research is not only based on basic science principles, but it can also be adapted to areas that relate to his work and the work of his peers.
Spencer, a cybersecurity lead in the Sensors and Sonar Systems Department who lives in Newport, Rhode Island, is responsible for verifying the proper configuration of cybersecurity and cyber-enabled technology per Department of Defense information system cybersecurity policies and procedures. Among his responsibilities, he analyzes and assesses damage to the data and infrastructure as a result of security incidents, examines available recovery tools and processes, and recommends solutions. With eight years at NUWC Newport, Spencer is considered the department's go-to person for cybersecurity issues, and he enthusiastically shares his expertise as he mentors new employees.
An award ceremony honoring all winners will be held on Feb. 8 in Washington, D.C.
NUWC Division Newport, part of the Naval Sea Systems Command (NAVSEA), is one of two divisions of the Naval Undersea Warfare Center. NUWC Division Newport's mission is to provide research, development, test and evaluation, engineering and fleet support for submarines, autonomous underwater systems, undersea offensive and defensive weapons systems, and countermeasures. NUWC's other division is located in Keyport, Washington.
https://ift.tt/2C7r5vD